Next to being a photographer, designing or home decorating is one of my favorite things to do. I love trying to improve a space and make it more functional. I have to admit I am a bit obsessed with design/decor blogs. I love seeing creativity in home design and improved functionality, it's become a bit of a side hobby for me these days. I really gravitate toward designers/bloggers that work with what they have and don't spend a ton of funds on higher end items. I do think there is a time and place for investments in your home, but for me at least, most of the time I have to work within a strict budget. I do feel that you can achieve a stylish look in your home just by thinking through the functionality and use of the space.  While we do intend on making some major updates to our home, those are most likely a couple years down the road. I've learned over the years that design evolves over time as does my style and what I like. Living in a space for a while before transforming it has really helped me see space and decor differently. I've already designed and re-designed my kitchen/dining space a million times in my head and I'm sure when we get to the time when we actually start busting out walls that it will change yet again. With the arrival of a baby girl later this year we got right to work on a few home projects we had waiting for us. Our home has 4 bedrooms all on the second floor. I work from home most days, I've just learned its soooo much easier to manage with kids, so one of the bedrooms needs to be a designated office space. Our boys are now sharing a room and while it has it's challenges, I really feel it's the best for them being that they are only 2 years apart in age. I know there will come a time when they really do need their own spaces, but for now they will share a room, baby girl gets her own room and the third bedroom is an office/playroom/guest room. I have a super fun design planned for that room so hopefully I can share that once I get to working on it 🙂
Anyway, enough rambling…here are a few pictures of the before process, scroll down for more info on our design plan!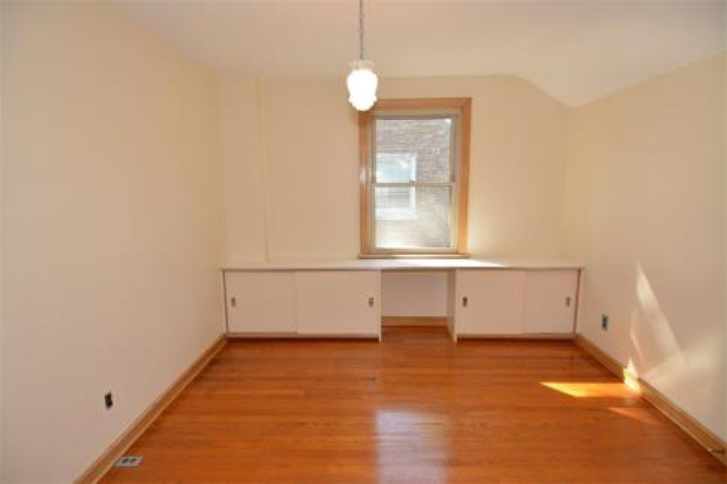 BORING 🙁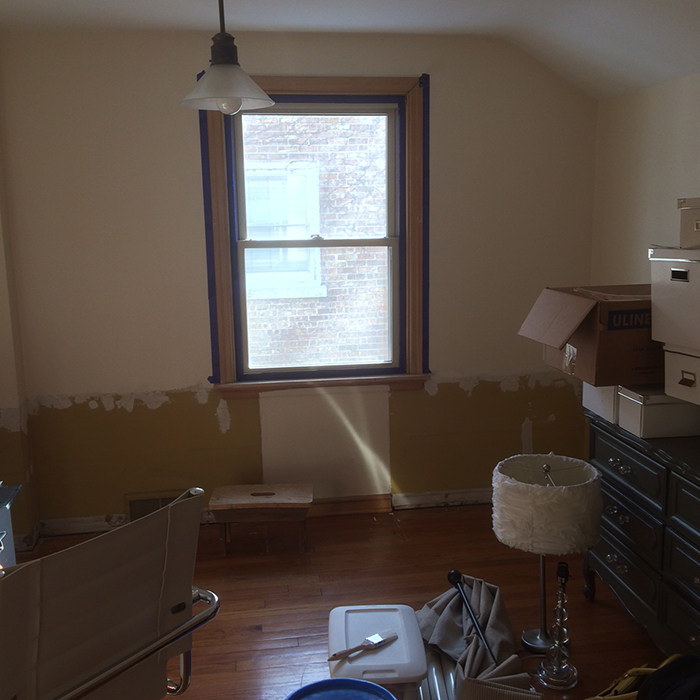 The hubs tearing apart the non-functional built-in. So, design and functionality. I know some people wondered why we would rip out "such a nice built-in" but in all honesty it was ugly, poorly constructed really wasn't that functional. What am I going to put in the built in that is a foot tall? Nothing that adds value to the space. So that piece was history. The room has more versatility with this window wall having more usable space as this room is quite small. It just doesn't make sense to me to keep something that I can't real make work.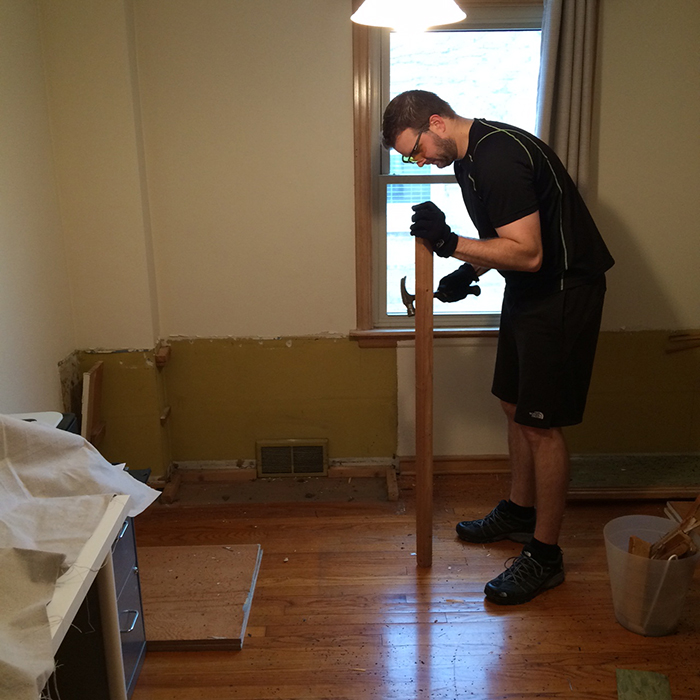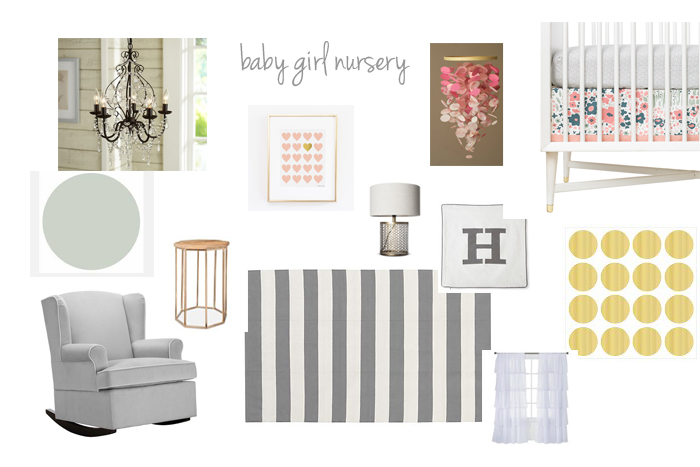 I pulled together a design board for baby girl's room and I loooooove! I had such a hard time deciding on a jumping off point. I knew I had to find the right bedding first and then all the elements would come together. I found this crib skirt and sheet set from Dwell and I love it! Soon as I saw it, I knew that was what I was looking for. I really wanted a design that was a bit modern, a bit whimsical, definitely girly but not too pinky, fun and most of all it could grow with baby girl M as she got bigger. We already owned a white crib and white dresser/changing table from the boys old nursery so I knew selecting a light and bright palette was definitely what I was looking to create. The striped Olin rug is from Crate & Barrel and it was in my home office originally. It cleans well and I love the graphic pattern. The paint color is Sea Salt by Sherwin-Williams and I love the soft gray/green blue color. It really will play off nicely on the colors of the crib skirt. It also works well as a master bedroom color. Really bright and airy. I plan to add a wall of gold decals in a symmetrical pattern. This is such a fun element I really can't wait to see up on the wall. I haven't decided which wall as the crib, changing table and chair all need to be configured in the space. The rocker is from Target and super affordable at only $299! I am hoping to use some saved up gift cards to purchase the chair. I'd love a little table and lamp next to the rocker for late night feedings and snuggles. That is something we never had in the boys room and I always wanted. I am planning on creating an eclectic gallery wall above the changing table of fun prints, most of them I will design myself. I'm thinking gold and white frames, some vintage finds as well. I'm not sold on the curtains I selected. I am guessing that will be the last thing I purchase once the room is all together. I originally wanted a ruffled panel, but it might not work in the space or be too frilly for me, I guess we'll have to see! Definitely some sort of bling for the light fixture I found a few affordable vintage looking lights online, not quite sure but definitely something old looking.
We've already started the reno on the room in early January, well before we knew we were expecting a baby. This room was my office space and I just couldn't stand the look of the space and the bland walls and ugly built in. So far we've ripped out the 50's built-ins, patched and painted the walls, added new chunky moldings and moved in the baby furniture. I started bringing up bins of blankets and baby things from the basement and filling it with new girly tiny baby outfits. How fun! We are working on completing the space and should hopefully have it done in the the next month or so.
I will post a few peeks on my instagram feed, be sure to check it out! I have a fun project in the works, a new lifestyle & home decor/design blog. I want to try and keep this little blog mostly dedicated to my client work with a few bits and pieces of my life sprinkled in. I will certainly keep you all in the loop once I finally get that launched!