A few months back we purchased a new house…well, new to us house 🙂 The house was built in the late 1940's and is a classic colonial style home. Most of the rooms are traditional in setup and layout which is pretty common for the area we live in. Not exactly the "open-concept" you hear on HGTV every night, but we knew what we were getting into when looking in our little city. We originally wanted to buy a different house in the same neighborhood just a few streets over. It was really our dream house on the outside and was everything I always wanted in terms of charm factor. With such a high rating in the vintage charm department also came a few drawbacks. The other house had a very small yard, slightly choppy layout, and very small bedroom sizes. We looked past all those things originally thinking we could deal with them. After really thinking about it we sorta felt that maybe we really should look for more space in a home and maybe look past the charm. One of the reasons we were moving, well really the main reason was the lack of space in our old house. We just simply needed more room to move around. The other charming house was red brick, georgian-style colonial with a juliet balcony, pretty entrance and walkway and on the most charming street in our little neighborhood. It was straight out of a movie. It was a real showstopper from the outside. Before we made the final decision, I persuaded my husband to check out this fixer upper in the same neighborhood at a Sunday open house, literally as our real estate agent was about to present an offer on the other house. We quick drove over to the house and decided that if it felt like the "one" we would know for sure if we were making the right choice on the other house. The outside of other house (our house now) needs a bit of work so when we pulled up it is less than charming 🙂 at least compared to the other house. As soon as we walked in however, we were sold. The layout was open, the house was bright, it was simply screaming for some love and attention. Several people had looked at the house before us and I am sure left disappointed. It's original cosmetically, not exactly what young buyers or families are looking for. The four bedrooms and loads of living space on the other hand were what made it a good option for us. I could see past all the almond colored walls, pink bathroom and 70's paneling and I simply saw a blank canvas full of space. We were sold in about 5 minutes and put in an offer later that day which was quickly accepted. I've been dreaming of a project of this magnitude and knew that it would be difficult to remodel a house with kids, a business and a real life, but just knew it felt right. Upon stepping into the house, our kids starting running laps around the house, they had so much space to move. The addition included a family room and master bedroom, both very large in size. This house has a larger lot than most other houses on our street so the addition only took up a portion of the yard and there was still enough yard for our kids to play. Double bonus. It really became our dream house and we knew we could make it our own.
The very first room we had to tackle was the family room addition. It was not my style at all, had a funny smell and was not the comfortable living space I was hoping for. The walls were 70's paneling, drop ceiling, 1950's awkward built-ins, and carpet…oh how I hate carpet 🙂 My husband and I agreed to remodel this room right away. It would just be easier to demo the space with all of our things still in boxes and out of the way. So move in day came, the next day we ripped everything down to the studs. It was a two day process of removing the paneling, ceiling and built-ins. My husband originally wanted to keep the built-ins, but I convinced him from a design stand point taking them out was best. They were not high-quality or well made and were not super functional in their current state. It would make more sense to buy a moveable piece of furniture if we wanted more storage. Keeping the built-ins would also limit the room layout. Something I was not to keen on. I really wanted to maximize the space and have options if the purpose of the room ever changed.
So, here is a picture of the before. In this shot below, we are standing in the corner of the room looking toward the living room which is through the doorway on the right, the kitchen/small mudroom is through the doorway on the left.So, to re-cap, we ripped the room to the studs, re-insulated it, new vapor barrier, all new drywall (ceiling and walls) ripped out the built-in, added recessed lighting, added crown molding, new baseboards, re-built the window jams and finally added new distressed hardwood flooring. We did do some of the work ourselves, mainly the demo, insulation and painting. I actually hired all the trades separately and managed the job myself! We first hired and electrician to update the outlets, add an Arc fault and recessed lights. Once that was complete, we had the dry waller come and do the walls and ceiling. Once that was completed my husband and I primed and painted the ceiling and walls, which took an entire day, btw. Painting fresh drywall is not as easy as it looks 🙂 I found a carpenter online and he installed the crown, baseboards and flooring for us. He also had to re-build the window jams on the inside of the house because the windows and new drywall were not even. All in all the process took about 2.5 weeks. Not too bad if you ask me! We haven't painted the floorboards or crown yet. I've had a few other projects to deal with and it's already primed white so it's hard to tell it's not actually painted yet 🙂 I'll get to that project soon! Anyway, here is the before and if you scroll down you can see the afters….I will write more about specific items as you scroll through!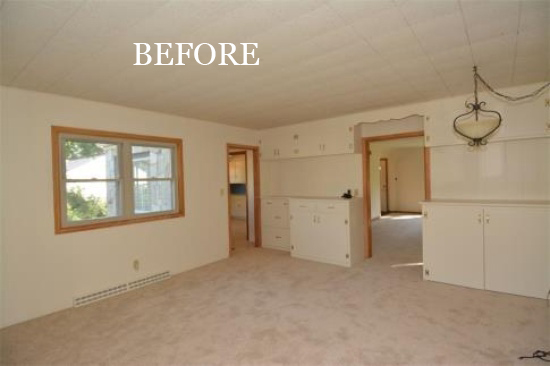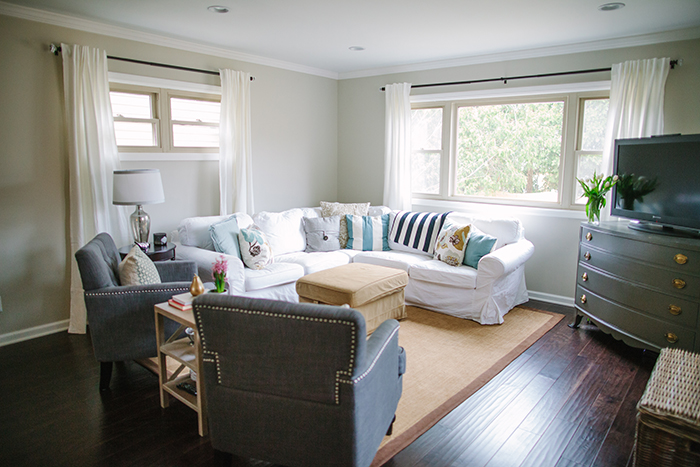 So this image is shot from the opposite side of the room. We only have one before shot of the room unfortunately.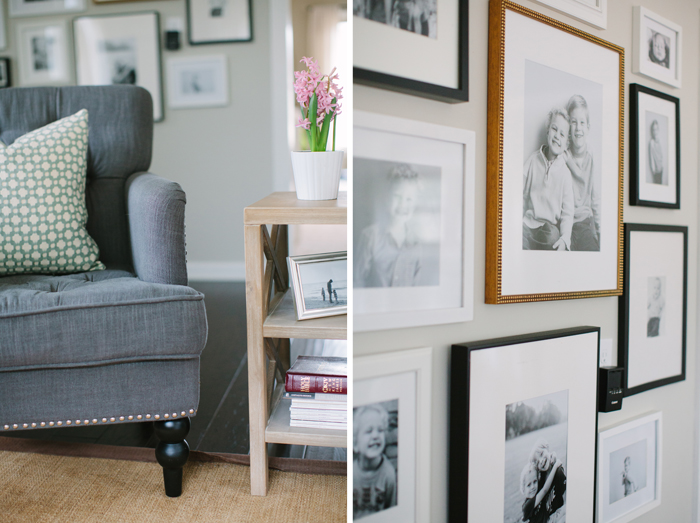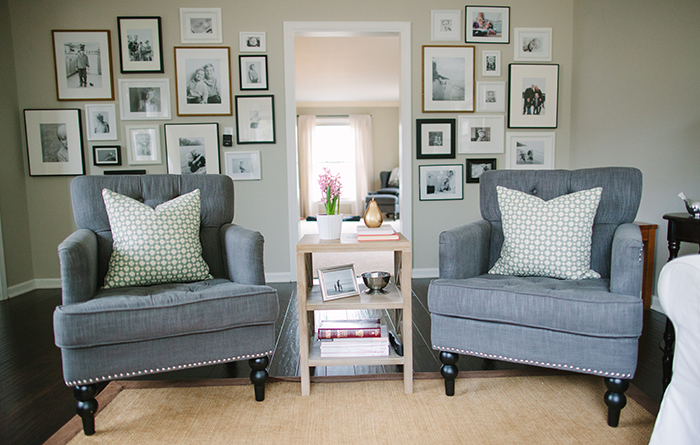 The gallery wall is the wall the built-ins used to live. SOOOOOO glad we took them out. My husband is glad too even though he didn't see my vision at first, it really opens up the space. Beyond this opening is the formal living room which I only made a few minor changes in so far. More to come on that room soon!  Chairs are from Overstock, you can find them here. I have seen them on Joss & Main as well at a similar price. I love the chairs. They are a great price for the value in my opinion. They are slimmer in style and I liked that we could see over the back of them so it didn't block the space or make it feel closed in. The side table is Target, also love it and you can find it here or in all their stores. The link is for the brown table, we have the weathered wood table. All the accessories on the table are either Target, antique stores or just books/magazines we already had. The pillows are from this shop on Etsy.  All the picture frames are either, Ikea, Target, Michael's or a vendor I use for my photography business.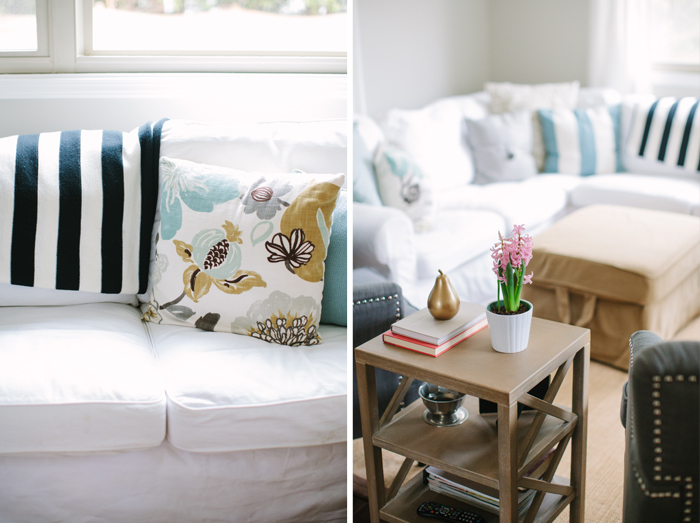 Striped blanket is Eivor from Ikea and the pillow is again from Nelson Design on Etsy.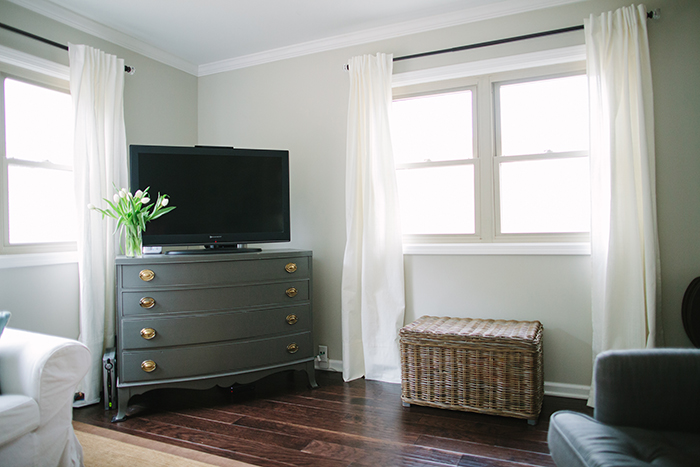 So the flooring….I love the way it looks and it cleans up easy enough. It's distressed dark engineered hardwood so a little more affordable than traditional hardwood floors. We haven't had any issues yet with scratching so I am happy with it so far. What I don't love is the fact that you can see all the dust and footprints all the time. That is typical with dark floors so no real way to avoid that, but that is really my only grip. The flooring is from Lowe's and I can't find it online. We bought it in our local store. It's an engineered distressed hardwood flooring. The curtains are Ritva from Ikea. I shorten them with hemming tape as they are I believe 96 inches long and I needed them about 87 inches. They are super affordable and a great value in my opinion. I wasn't sure about them in the store but bought them anyway. Once I saw them up and left them up for a bit they really fit the space and feel I was going for. All the curtain rods are from Target and look just like the Pottery Barn ones which are more than double in price. You can find the Target rods here. The wicker storage ottoman is from Target and I got it 2 years ago on clearance for $30! The rug is also Target and sized 8×10. They still sell the rug in stores, I can't seem to find it online anywhere. I am looking to replace the rug with something a little more plush, just haven't quite nailed down a good pattern.  The TV dresser is a vintage find. I paid $300 for it several years ago and it was refinished by a professional. It's a steal in my opinion as it's real wood, solid construction and was in great shape. Better than some furniture I've seen in stores lately. I love the classic, vintage feel of it and really like that it adds a bit of old to the space.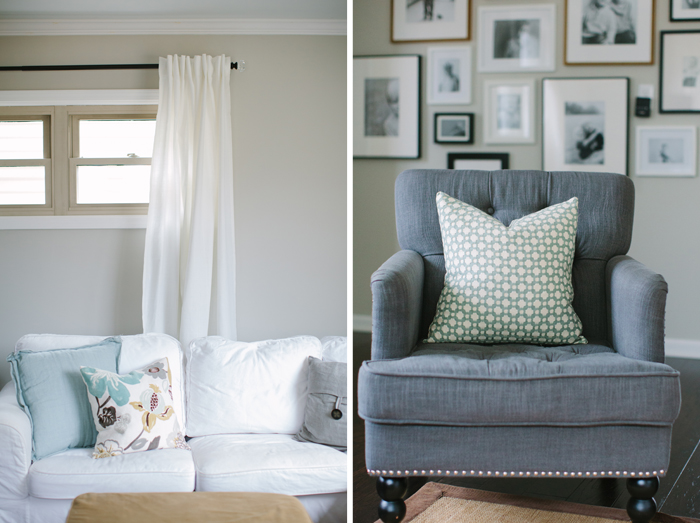 The sofa and brown ottoman are Ektorp from Ikea. The sofa is white, however, the slipcover does come off and can be bleached in a regular washing machine. It does make cleaning easier for sure. They sell lots of cover options so we actually purchased two covers thinking one might get trashed. So far I am really happy with the sofa. The quality is on the lower end, but honestly for the price you can't beat it. I looked at several more expensive options before choosing this one. Having small kids, especially boys, it was inevitable that nothing we purchased would last a long time. This sofa will eventually go in the basement when we get to finishing that room and the boys are bigger and not making as many messes 🙂 I can tell you that they've jumped on all the furniture in our house and so far it has held up nicely.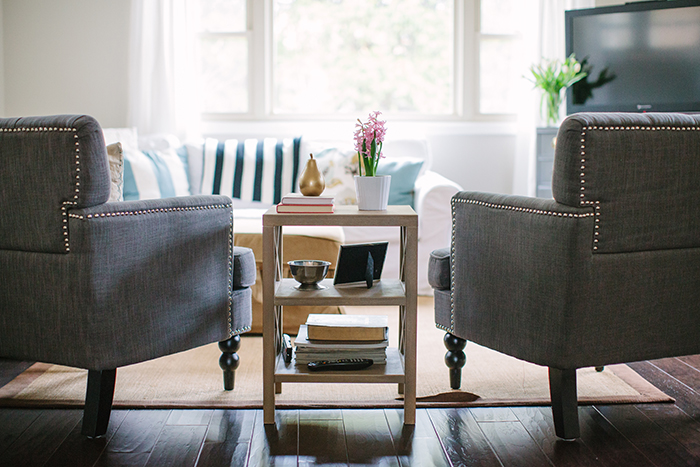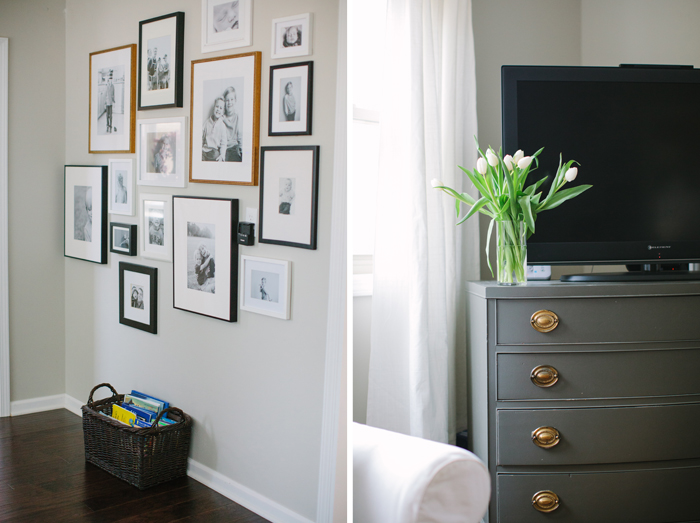 The wall color is Benjamin Moore Revere Pewter. Really the best paint color out there in my opinion. It's the perfect gray/beige. In the link it looks more beige to me, it really has more gray in it if you ask me. I had it lighten by 25% just to keep the room light and airy like I wanted. I purchased the paint a local shop in the city we live in. There is in fact a plug in the middle of the wall, I will have that relocated next time we have an electrician at our house. One of the minor issues when being your own general contractor on a project 🙂 Oops! The TV dresser holds coloring books, puzzles, paper, paint, movies, games, etc. It's a great storage piece and well worth the money.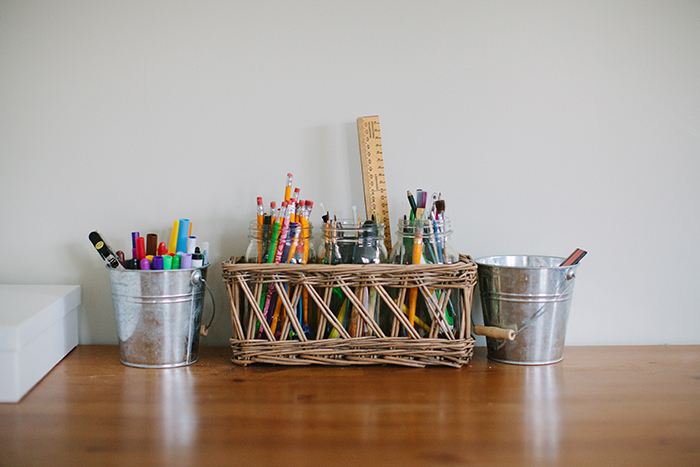 We have a little child-sized table with arts & crafts supplies for the kids. I love having these things out for them to use whenever they want. It also makes clean-up easy, everything has a place! We have paper in the little white box to the left. We also have a few bins of legos and more crayons that we store under the table. The table is actually our very first kitchen table we purchased from Ikea before my husband and I were married. I cut the legs down so it could be used for the kids legos and artwork. My next project I hope to tackle this week is painting the table a similar color to the TV dresser so it coordinates better. I feel like the honey tone of the wood just doesn't go. Minor details… 🙂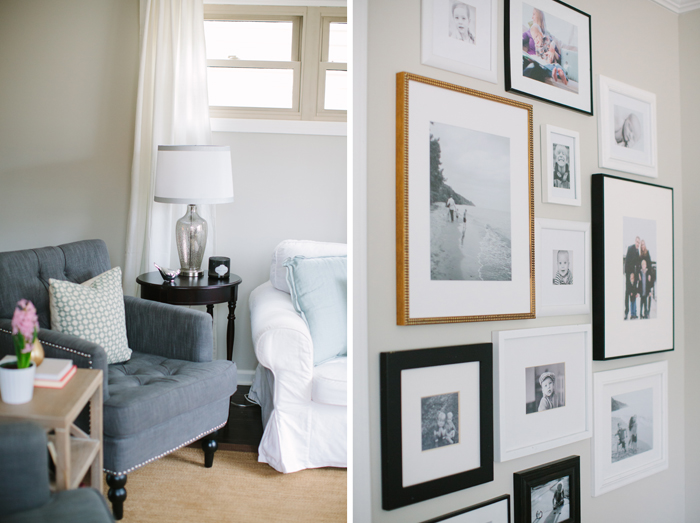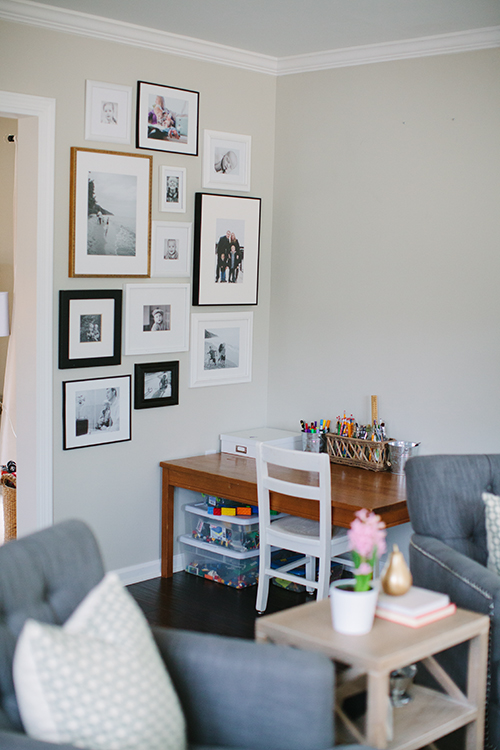 Here is a better shot of the kids table. I love that they have a space in this room. We spend most of our time in this room and the kitchen of course 🙂 Hope you enjoyed out little home tour. I have a few more things to share soon, so check back for more home reno projects soon! If you have any questions, leave a comment, I'm happy to answer!